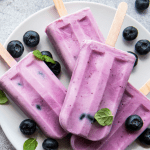 Print
Blueberry Popsicles
Fun and whimsical, popsicles are a great treat any time of year. Who knew that healthy could be so simple and taste so good?!
Ingredients
2

pints

fresh blueberries

1/8-1/4

cup

zero-calorie sweetener

adjusted to personal taste

1/4

cup

water

NOTE: the recipe uses 4 oz ice pop molds – adapt the recipe and serving size to the size of your ice pop molds
Instructions
Place all ingredients in a blender or food processor.

Blend until mixture is smooth.

Pour mixture into ice pop molds.

Freeze.

When ready, run under hot water to remove from molds.

Enjoy!
Notes
Makes 8 servings. Uses 1/2 cup of daily fruit allowance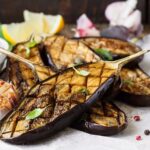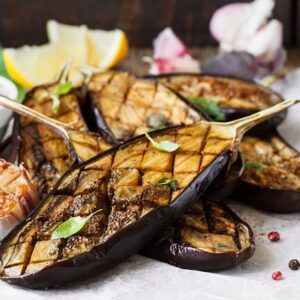 Print
Roasted Eggplant
What's better than a hearty dish that's quick and simple to prep? This roasted eggplant fits the bill!
Servings
2
8 oz of vegetable day allowance
Ingredients
1

medium eggplant

Salt, to taste

Pepper, to taste

Garlic powder, to taste

Italian and/or other seasonings, to taste

1-2

tsp

lemon juice
Instructions
Cut off the stem end and cut in half lengthwise.

Poke the skin side of the eggplant with a fork.

Use a paring knife to deeply score the inside in a criss-cross pattern.

Sprinkle a generous pinch of salt inside each half of eggplant. Note, the salt helps the eggplant express water and cook down.

Sprinkle pepper, garlic powder and other seasonings, to taste. Rub in seasoning so it penetrates the scores.

Drizzle 1/2-1 tsp lemon juice over each half.

Wrap each half in a square of aluminum foil.

Bake for 45 mins, until flesh soft.